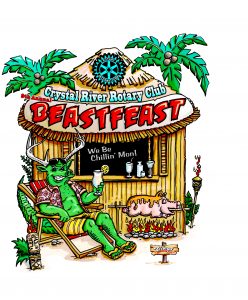 9th Annual Beast Feast
March 14, 2022 | 5:00-9:00 pm | Crump's Landing on the Homosassa River
The Rotary Club of Crystal River's BEAST FEAST is a fun filled night benefiting many charitable organizations in Citrus County. The night will include all you can eat beasts; like Hawaiian Whole Hog, Smoked Jerk Chicken Legs, Bahama Breeze Guava Glazed Ribs, Brisket w/Chimichurri Sauce, Jambalaya, Gumbo and Seafood. Also featured will be an open bar, craft beer, "Signature Drink," live music, mechanical shark, axe throwing, door prizes and 50/50.
At Rotary we start by building goodwill and better friendships. We seek opportunities to make a positive impact. We help others help themselves. We strive to be a positive influence for all concerned. Rotary is a Global Network of Community Volunteers.
Members of The Rotary Club of Crystal River are business and professional leaders who volunteer in the community and strive to promote world peace and understanding. Through fundraisers, such as the Beast Feast, The Rotary Club of Crystal River is able to donate approximately $50,000 a year to humanitarian projects that include poverty, health, hunger, education and the environment.