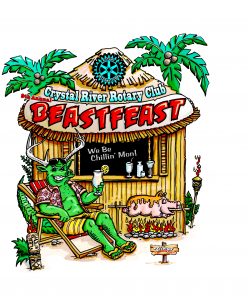 11th Annual Beast Feast
March 11, 2024 | 5:00-9:00 pm | Crumps' Landing on the Homosassa River
RAIN OR SHINE!

The Rotary Club of Crystal River's BEAST FEAST is a fun-filled night benefitting many charitable organizations in Citrus County. This year's Beast Feast is being held at beautiful Crumps' Landing on the Homosassa River. The night will include all you can eat "beasts" like: Hawaiian Whole Hog, Smoked Jerk Chicken Legs, Bahama Breeze Guava Glazed Ribs, Brisket, Gator Ribs, Pulled Pork and Seafood. Also featured will be an open bar, craft beer, live music, and 50/50.
This year we have added a VIP Ticket option. VIP Tickets includes exclusive access to VIP Only area, and includes private bar, private food stations, exclusive Beast Feast long sleeve shirt and guaranteed community Beach Area seating.
Rotary is a global network of community volunteers. We start by building goodwill and better friendship in the community's we serve. Rotarians strive to make a positive impact by identifying issues and finding solutions.
The members of the Rotary Club of Crystal River are business and professional leaders dedicated to both local and global initiatives. On the local front, we support non-profit organizations such as the Key Training Center, the school system, YMCA, the Community Food Bank, Citrus County Blessings, The Path Homeless Shelter and youth scholarships. On the global front, we join with Rotarians from around the world to promote peace and understanding. Most notably, Rotarians have led the fight to eradicate polio on the planet.
The Beast Feast is one of our key fundraising efforts that helps us raise and donate more than $50,000 each year to support local and global non-profits efforts.
COUNTDOWN TO BEAST FEAST 2024